Retreat provides an opportunity to gain deeper experience of meditation.
On retreat we withdraw from our usual routine and structure our time and conditions so that we can get the most out of our meditation.
Retreat details will be announced here as they are scheduled 
The following retreats are held every year in Kadampa Buddhist Centres. Each retreat session includes chanted prayers and silent time for meditation practice. Guidance will be available. Most retreats are suitable for all levels of experience, from complete beginners to experienced meditators.
The Lamrim, or stages of the path to enlightenment, is a special condensation of all of Buddha's teachings made by the great Kadampa master Atisha (982-1054 CE). In this retreat we have the opportunity to contemplate and meditate upon these extraordinary teachings. Through practising these meditations we can cease our suffering in this life and all our future lives. We will then be in a position to help our family, friends and all living beings to do the same. What could be more beneficial and meaningful than this?
'Going for refuge' means seeking protection from suffering in Buddha, Dharma (Buddha's teachings) and Sangha (the spiritual community). By applying effort to receiving Buddha's blessings, putting Dharma into practice and receiving help from Sangha, we can find inner protection from our physical suffering and mental pain. In this retreat we can strengthen our experience of refuge by deepening our reliance upon the Three Jewels: Buddha, Dharma and Sangha.
Guru Yoga and Mandala Offering retreat
We all wish for spiritual realizations, but this depends upon purifying negativity, accumulating merit and receiving blessings. In this retreat we focus on the practices of accumulating merit, or positive energy, by making mandala offerings, and receiving powerful blessings by engaging in the Guru Yoga practice of Je Tsongkhapa. Guru Yoga is a special method that enables us to receive the blessings of all the Buddhas, Bodhisattvas, and holy beings. When making mandala offerings to our Spiritual Guide and other holy beings, we are in reality offering them the entire universe in pure form.
By relying upon Vajrasattva, the Buddha of purification, and practicing a special meditation, we can free ourselves from all our negative karma which is the actual cause of our unhappiness and difficulties. As a result, all our experiences will be positive, we will have a peaceful and pure mind, and will easily remove the obstacles to our spiritual development.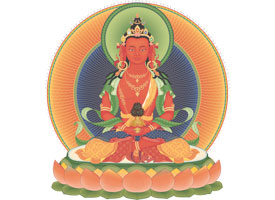 The New Year is a very auspicious time of the year, especially for making connection with Buddha Amitayus. In this retreat, we can strengthen our connection with Buddha Amitayus, increase our lifespan and wisdom, and accumulate lots of merits.meditators.
Nyungnay Purifying Ritual Practice
This special fasting and purification practice is performed in conjunction with prayers and prostrations to thousand-armed Avalokiteshvara. It is very powerful for purifying negative karma of body, speech, and mind, and for pacifying strong delusions such as desirous attachment and hatred. It is also a special method for receiving blessings and improving our experience of love, compassion, and bodhichitta.
The practice starts with the granting of the eight Mahayana precepts at 6.30am according to the sadhana "A Pure Life". This is followed by three sessions of prayers and prostrations through the day.
On the first day, it is customary to abstain from all meals apart from Precepts lunch. On the second day, we engage in a complete fast abstaining from all food and drink for twenty-four hours. Students have the choice to attend both days or one day. Those who are unable to engage in a complete fast can participate on the second day provided they take the eight Mahayana precepts on that day, and eat only a Precepts lunch.
Held annually, usually in April.